News 2020 – Our Year by Topics
Filter by topics
All categories
Projects & Partners
Aspects of Care
Advanced Medicine
People & Prizes
Innovation through Research
Corona
Advanced Medicine
Artificial intelligence should reduce surgical risks
To be able to assess and take into consideration the individual risk of a patient for complications as accurately as possible prior to an operation, researchers at UKHD want to use "machine-learning" methods. This innovative project is being funded by the Baden-Wuerttemberg Ministry for Science, Research and Art with two million euros.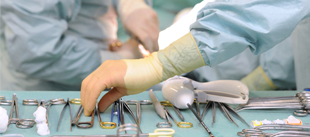 Advanced Medicine
Interdisciplinary Spinal Pain Board
The Department of Neurology at Heidelberg University Hospital has established a pain board for complex spinal diseases. Experts meet here for interdisciplinary discussions on what treatment option is the best for the respective patient. "We also want to offer treatment to patients who have already undergone multiple operations during which there might have been complications", says Prof. Dr. Andreas Unterberg, Medical Director of the Department of Neurosurgery at UKHD.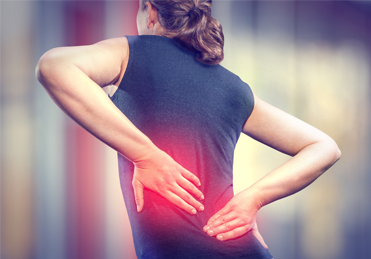 Corona
Map of worldwide clinical research on COVID-19
An overview of the global clinical research activities on the coronavirus is provided by an online map, which geoinformatics specialists at Heidelberg University have developed in cooperation with UKHD physicians. The regularly updated "COVID-19 Map of Hope" is based on data provided by the World Health Organization (WHO) and shows at what places around the world and in which areas of the fight against the virus and disease research is being conducted.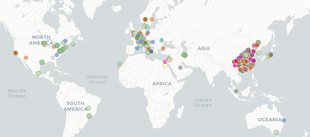 Corona
Offer of lung tests after a COVID-19 infection
There are signs that even mild progressions of a COVID-19 infection can coincide with long-term damage, especially to the lungs. The Lungennetz Rhein-Neckar, an association of lung specialists with the Thorax Clinic at UKHD, offers the afflicted a special pulmonary function test six to eight weeks after the infection. The objective is to detect and treat lung disorders early, if possible.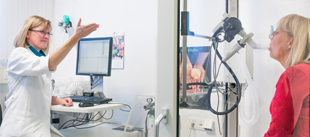 Corona
Reproduction cycle of SARS-CoV-2
Cells that are infected by SARS-CoV-2, die within only 24 to 48 hours. This indicates that the virus harms the human cell so that it is de-programmed and compelled to produce virus particles. The identification of morphological changes within a cell was the main goal of a project by Ralf Bartenschlager, a professor in the Department for Infectious Diseases at Heidelberg University together with a team of researchers at EMBL in Heidelberg.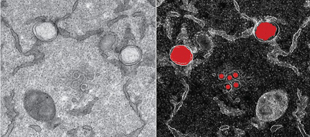 Innovation through Research
Hepatitis viruses and immune response
The German Research Foundation (DFG) has approved approximately 13 million euros over a period of four years for the transregional collaborative research center SFB 179 "Causes of the cure or chronicity of infections with hepatitis viruses". Researchers are pursuing the issue, using the various medically relevant hepatitis viruses as an example, of what decides that infections will heal or take a chronic progression.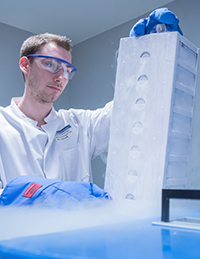 Innovation through Research
Intestinal cancer: Antihypertensives for a better therapy outcome
Researchers of the Department of Surgery at the University Hospital and from EMBL discovered in remote metastases that their response to treatment with a common cancer medicine was worse as the tissue became stiffer. Relief is obviously produced by certain medicines against blood cancer: For patients who ingested these medicines, the metastases were softer and were poorly perfused. They responded better to the cancer medication.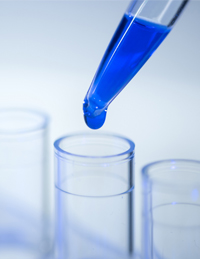 People & Prizes
Anita and Friedrich Reutner Prize
The Medical Faculty has awarded the 2020 Anita and Friedrich Reutner Prize to Dr. Aysel Ahadova and Dr. Dr. Sabine Heublein. This prize is endowed with 10,000 euros. Dr. Ahadova is conducting research on the most frequent form of hereditary colorectal cancer (Lynch syndrome) at the Institute of Pathology, Department for Applied Tumor Biology of the Women's Hospital at Heidelberg. Heublein is working the analysis of ovarian carcinomas and breast cancers at the Women's Hospital of Heidelberg University and is investigating their interaction with certain active substances.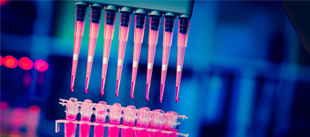 People & Prizes
Hufeland Prize for preventive medicine
Prof. Dr. Gwendolyn Gramer and Prof. Dr. Georg F. Hoffmann from the Center for Pediatris and Adolescent Medicine at UKHD received the Hufeland Prize for Preventive Medicine endowed with 20,000 euros, which is sponsored by the Federal Medical Council, the Federal Dental Council, and the Federal Association of Prevention and Health. This prize was awarded for her work on "Newborn Screening for a Vitamin B12 Deficiency in Germany". UKHD has been a pioneer in the further development of newborn screening tests for many years at the Dietmar-Hopp Metabolic Center funded by the Dietmar Hopp Foundation.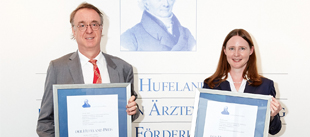 People & Prizes
Thai foundation honors virologist
Prof. Dr. Ralf Bartenschlager, who conducts research at UKHD and at DKFZ as a virologist, has received the Prince Mahidol Award, which is endowed with 100,000 US dollars, in "Medicine" for his research work on the hepatitis C virus. The prize was awarded by the President of the Foundation, Princess Maha Chakri Sirindhorn. With his research, Bartenschlager has discovered important molecular properties of the hepatitis-C virus and has made a crucial contribution to developing antiviral medications.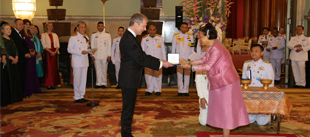 Projects & Partners
Using genome data better
Genome research plays a key role in modern health research and is already making contributions to better care for patients. The "German Human Genome-Phenome Archive" consortium, in which researchers of NCT Heidelberg, UKHD, and DKFZ, inter alia, are involved, has set itself the goal of utilizing genome data in the best possible way and making them available to researchers. At the same time, the personality rights of patients must be preserved.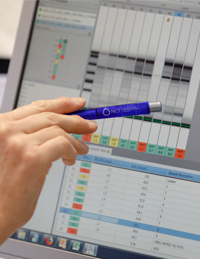 Projects & Partners
Causes and treatment of leukemia
The Junior Association LeukoSyStem was able to obtain research funding from the Federal Ministry of Education and Research in the amount of 2.45 million euros. The objective of this project by UKHD, EMBL and the German Cancer Research Center (DKFZ) is to explore the originating cells of acute myeloid leukemia (AML). Researchers want to study the characteristic markers, mutations, functional data, and metabolic pathways using isolated individual cells from patient samples to better understand leukemia stem cells and their environment in bone marrow.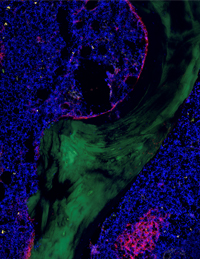 Aspects of Care
Token of appreciation
To commemorate the International Day of Nursing the City of Heidelberg and UKHD sent a signal of their appreciation for the nursing profession: Together, the city and the hospital illuminated the Alte Brücke (Old Bridge), Rathaus (City Hall) and the UKHD Administration Building. "With this night lighting, we continue to visibly draw attention to the importance of professional nursing care for our society", explains Edgar Reisch, Director of Nursing at UKHD.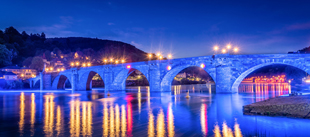 Aspects of Care
Recruiting foreign nurses – TripleWin
To counteract the current development related to specialized nurses in the German labor market, the UKHD Nursing Service has successfully recruited nurses from Serbia and Bosnia-Hercegovina since May of 2017. The collaboration with the International Placement Service (ZAV) of the German Federal Employment Agency and the German Society for International Cooperation (GIZ) in the TripleWin Project has been intensified. Just under 200 nurses have been recruited since then, of whom 130 have already successfully completed the recognition procedure and are well integrated.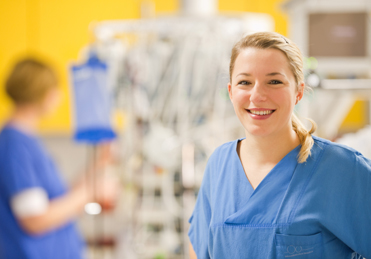 Advanced Medicine
Detecting cancer relapses earlier through high-tech analytics
Researchers from UKHD and the region want to identify molecular markers in samples of tissue, blood or spinal fluid that can predict the re-emergence of tumors or the progression of a cancer. The goal of this Heidelberg research project called SMART-CARE is to establish the use of mass spectrometry in cancer medicine. This project is being funded by the Federal Ministry of Education and Research.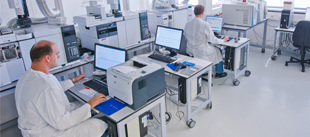 Advanced Medicine
Gene therapy
for children with thalassemia
Thalassemia is a group of diseases in which hemoglobin, the red blood pigment, is not correctly produced. Afflicted children must endure monthly blood transfusions for the rest of their lives. At the Department for Pediatric Oncology and Immunology of UKHD and KiTZ the treatment of a certain form of this disease is now possible with a new gene therapy. An intact gene that can produce healthy hemoglobin is smuggled into the patient's blood stem cells.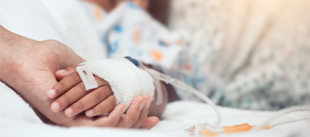 Advanced Medicine
A comparison of treatment procedures for breast cancer
In a study, international researchers wanted to know whether the surgical procedure during which fewer lymph nodes are removed, but where patients are radiated with a higher dose is just as safe and effective as the more radical standard procedure. Both procedures are also compared with respect to the quality of life. "This is a highly relevant aspect with the increasingly very similar chances of recovery", explains Prof. Dr. Jörg Heil, head of clinical trials in Germany and Head of the Breast Center of the Heidelberg Women's Hospital.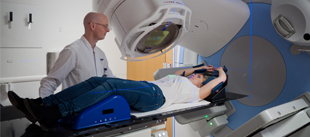 Corona
Alliance in the battle against Corona
With the fightCOVID@Heidelberg taskforce, researchers at Heidelberg University are actively driving the fight against the coronavirus pandemic forward. The focal points are numerous projects and initiatives in the areas of antibody testing, drug screening, disease development, and the development of vaccines. Researchers from both Medical Faculties and the University Hospitals in Heidelberg and Mannheim are involved, among others.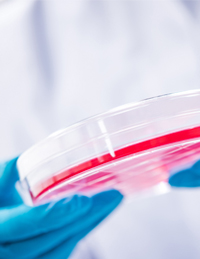 Corona
Entry for visitors via QR code
German Human Genome-Phenome Archives UKHD has started a project at the Center for Orthopedics, Trauma Surgery and Paraplegiology in Schlierbach which means that paper questionnaires no longer need to be filled out before entering the facility. The "entrance card" to the Clinic is a QR code. After the successful implementation, the QR code is also going to be introduced for visits to the other clinics at UKHD and for outpatients as well.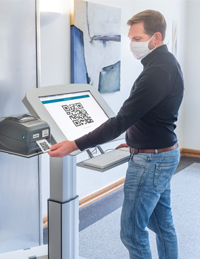 Innovation through Research
Treating iron deficiency adequately
How can the various forms of iron deficiency be diagnosed? What are the causes? Iron deficiency is one main cause of anemia and can lead to severe long-term damage to a person's health, such as heart disease or developmental disorders in children. An international team of researchers has published evidence-based recommendations regarding the diagnostics and treatment of iron deficiency. At UKHD, researchers working with Prof. Dr. Martina Muckenthaler, Head of the Section for Molecular Medicine, Department for Pediatric Oncology, Hematology, and immunology, have been leading the way.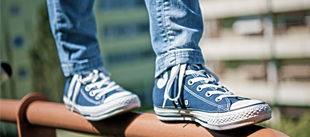 Innovation through Research
Complementary medicine on a scientific basis
Researchers from the four University hospitals in Baden-Wuerttemberg have come together for an initiative known as "Complementary and Integrative Healthcare in Baden-Württemberg (KIG BaWü))". The objective is to augment conventional medicine optimally through naturopathic and other complementary-medicine treatment concepts. The state is supporting KIG BaWü with 1.16 million euros, as a contribution to the healthcare venue of Baden Wuerttemberg.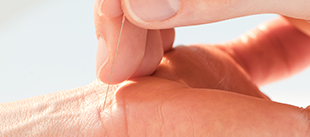 Innovation through Research
Malaria: Hide-and-seek in the drought
Malaria germs need the anopheles mosquito to get to people. The mosquito larvae need water to develop. In dry periods, this cycle is interrupted. Dr. Silvia Portugal, from the Department of Parasitology at UKHD and the German Center for Infectious Disease Research (DZIF) was able to show, with research work performed in Mali, that malaria germs can still survive in humans in dry periods without them displaying any symptoms or an immune response. The results were published in the Journal of "Nature Medicine".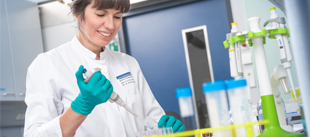 People & Prizes
Wilhelm P. Winterstein Prize
UKHD researchers have identified proteins that play a role in a heart attack and have created a basis for possible therapeutic approaches. Prof. Dr. Florian Leuschner und Dr. Tim Christian Kuhn from the Department for Cardiology, Angiology and Pneumology at UKHD have received the Wilhelm P. Winterstein Prize granted by the German Heart Foundation for their work, which is endowed with 10,000 euros.
People & Prizes
Oncologist receives an "Else Kröner Clinician Scientist Professorship"
For his research on personalized treatment of leukemias and lymphomas, Prof. Dr. Sascha Dietrich, a physician at the Department of Hematology, Oncology and Rheumatology and employee of the Medical Faculty, has been awarded an "Else Kröner Clinician Scientist Professorship". With this funding, the Foundation annually supports three physicians whose performance in patient care and research has been outstanding. The Clinician Scientist Professorship is endowed with a total of one million euros over the whole term of the support.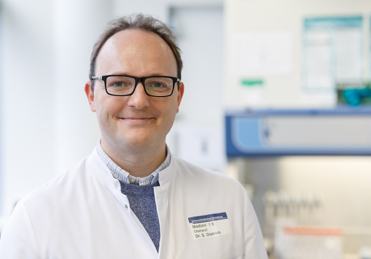 Projects & Partners
Pharmacy on the Neuenheimer Feld campus is being expanded
The state of Baden-Wuerttemberg is investing about 25 million euros in the new expansion annex of the pharmacy on the campus at Im Neuenheimer Feld. The new building is to be completed in the spring of 2022. This will be followed by an approximately one-year phase for the ramp-up and qualification. "We are very pleased about the urgently required enlargement of the pharmacy. On a space of about 1,700 square meters, clean rooms for medications prepared individually for patients and offices and storage rooms in particular will be erected", reports Dr. Torsten Hoppe-Tichy, Head Pharmacist at UKHD.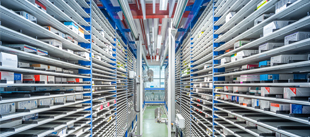 Projects & Partners
20 years of a prevention program at the Thorax Clinic
For more than 20 years, the tobacco-prevention program called "ohnekippe" of the Thorax Clinic at UKHD has educated young people about the risks and consequences of the consumption of tobacco and other inhaled addictive substances. What began in the summer of 2000 with a question from a teacher has turned into a unique prevention campaign that reaches 15,000 adolescents annually. In the meantime, this prevention offering is also conducted online as an interactive "no butt" classroom show. To date it has been firmly established in the curriculum of all secondary schools in Heidelberg, Mannheim, and the Rhine-Neckar County, and is now also being requested beyond these borders.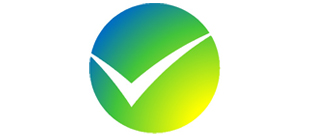 Projects & Partners
New building of the Hopp Children's Cancer Center in Heidelberg
Every year the parents of about 2,000 children in Germany receive the diagnosis that their child has cancer. A new building of the Hopp Children's Cancer Center in Heidelberg (KiTZ), which the Dietmar Hopp Foundation and the Gerda Tschira Foundation wish to erect together with other donors and donate to the State of Bade-Württemberg, is intended to create unique prerequisites in Germany for research and for the treatment of children and adolescents with cancer under one roof.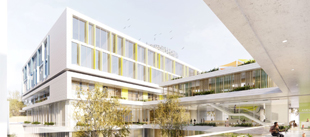 People & Prizes
Lautenschläger Research Prize
Prof. Dr. Hannah Monyer, Medical Director of Clinical Neurobiology, and a well-known expert in the field of brain research, was honored with the Lautenschläger Research Prize for 2020. This award is associated with prize monies of 250,000 euros. "Hannah Monyer can justifiably be described as a pioneer of a modern, systemic neuroscience and behavioral science anchored in molecular biology", is how Manfred Lautenschläger paid tribute to the prizewinner.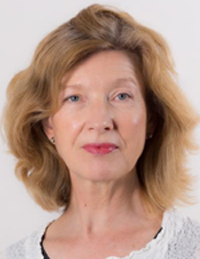 People & Prizes
Prize awarded for rheumatology
The research prize awarded by the "DGRh Forschungsinitiative 2020 and thus the title of "Research Excellence Center of the Deutschen Gesellschaft für Rheumatologie e.V. (DGRh (German Society for Rheumatology)"went to the Rheumatology Section of Department of Internal Medicine V at UKHD as well as to Dr. Ricardo Grieshaber Bouyer, resident physician of the Department for Hematology, Oncology and Rheumatology for his work on immune cells as a therapeutic objective against pathological inflammation. The prize comprises funding of 168,000 euros.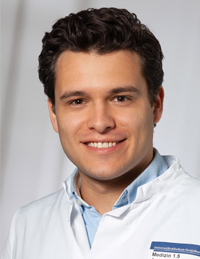 Aspects of Care
Nurses sought
The Nursing and Function Service form the largest group of professionals at UKHD and comprise about 2,500 full-time positions, which corresponds to ca. 3,500 employees. UKHD, a maximum care hospital, makes the whole range of its development and career opportunities in nursing visible through its "We are intensive" campaign, to inspire new nurses for the varied and responsible activities in the highly qualified vocational fields at the hospital. More under: https://wir-sind-intensiv.de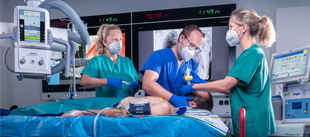 Aspects of Care
Creative solutions from the Innovation Space
Putting new ideas into practice and changing stale routines: In the "Innovation Space – Nursing" of the University Department of Neurology eleven highly motivated nurses step up to find and implement creative solutions for frequently appearing problems in nursing practice. This ward with initially ten beds is to be topped up to 20 beds soon. The multi-professional team of nurses and therapists will scientifically evaluate and publish the developed improvements and approaches to solutions.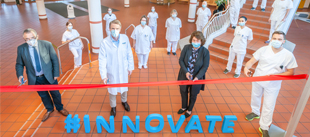 Aspects of Care
For better daily work routines
Twenty-one hospitals, including UKHD, are participating in the interventional study called "Magnet4Europe". The central issue is: How can working conditions be improved for physicians and nurses?" The so-called "magnet hospitals" in the USA have set the standard here. They are characterized by excellent outcomes and a high degree of satisfaction on the part of patients and employees. "We hope that the results will set important impulses for our own organizational development", says Meike Buchholz, Head of the Department for Quality and Development in Nursing at UKHD.