News 2019 – Our Year by Topics
Filter by topics
All categories
Aspects of Care
High-Performance Medicine
Innovation through research
People & Prizes
Projects & Partners
High-Performance Medicine
100 years of Technical Orthopedics at UKHD
Since its foundation in 1919, the Department of Technical Orthopedics at UKHD has been one of the few facilities of its kind in Germany, which not only cares for patients but also scientifically supports the development of the provision of aids and devices. The 100th anniversary was celebrated on a large scale with an open house – a good opportunity for colleagues to demonstrate what is technically possible nowadays in order to make it easier for patients to return to everyday life.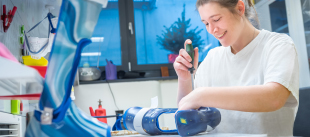 High-Performance Medicine
NCT Heidelberg is certified as an Oncological Center
An advisory body of the Deutsche Krebsgesellschaft e.V. (German Cancer Society / DKG) has confirmed that the National Center for Tumor Diseases (NCT) at Heidelberg, has met the quality criteria of the German Cancer Society with regard to the clinical care of adults and children suffering from cancer. Clinics that are certified by the DKG must meet high professional requirements. Moreover, these centers are characterized by the fact that various departments and registered medical experts are networked and collaborate in interdisciplinary teams.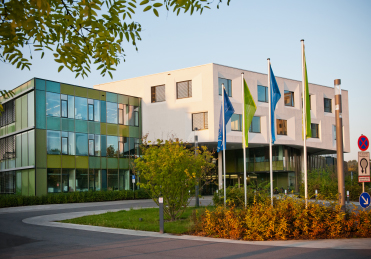 Aspects of Care
25 years of service for tumor patients
The transitional care team at UKHD celebrated its anniversary! For a quarter of a century these employees have dedicated themselves to providing the best possible care for severely ill tumor patients even when they are at home. Very important aspects of their work are: dispelling fear, as well as providing extensive advice and information on what financial aid and nursing support offerings are available, so that tumor patients are able to spend the end of their life at home while being well cared for and receiving competent support.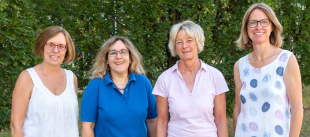 Aspects of Care
Intensive care experts honored
Jana Schneider and Anna Katharina Malatek, nurse and healthcare professionals for intensive care and anesthesia, were awarded the 7th Young Talent Award given by the Deutsche Gesellschaft für Fachkrankenpflege und Funktionsdienste e.V. (German Society for Specialized Nursing and Functional Services). Jana Schneider won first place endowed with 1000 euros, Anna Katharina Malatek had the pleasure of coming in second. Both work in intensive-care units in the Department of Surgery at Heidelberg University Hospital.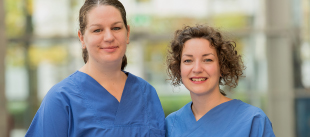 Aspects of Care
Heidelberg Nursing Prize
With the third Heidelberg Nursing Prize sponsored by the Manfred Lautenschläger Stiftung (Manfred Lautenschläger Foundation), outstanding projects developed by nurses to improve patient care were honored once again. The first prize was won by a team at the Department of Surgery around Michaela Wüsten and Franziska Glass (2nd and 3rd from the left) with the project called "Use of virtual reality glasses to reduce pain in everyday hospital situations". The team was able to demonstrate that a person's perception of pain can be reduced without any change in medication through the use of a VR glasses.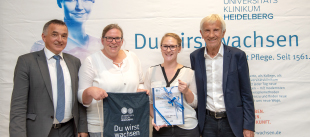 Innovation through research
Nerve cells encourage brain tumor cells to grow
Researchers and physicians of the University Hospital and of the Heidelberg Medical Faculty and the German Cancer Research Center (DKFZ) have discovered that nerve cells in the brain also form direct cell-to-cell contacts with tumor cells. The tumor benefits from this "input": The activation signals are probably a driving force behind tumor growth and the invasion of healthy brain tissue by tumor cells, as the researchers have written in a cover story for the renowned science journal called "Nature".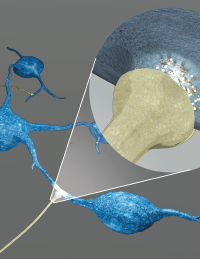 Innovation through research
Artificial intelligence helps to better evaluate the response of brain tumors to therapy
A team from the UKHD and the German Cancer Research Center (DKFZ) has developed a process for automated image analysis of brain tumors. The researchers demonstrated that using standard magnetic resonance imaging (MRI), trained mechanical learning processes reproduce the response to therapy of brain tumors more reliably and more precisely than established radiological processes – and thus make a valuable contribution to the individually adapted treatment of the tumors.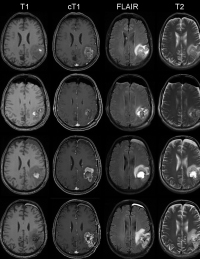 Projects & Partners
Research into rare tumors
Soft-tissue sarcomas are rare tumors that comprise about one percent of all new adult cancer in Germany. In advanced stages, chemotherapy can only alleviate the symptoms but does not extend survival. Therefore, the development of more effective and well tolerated therapies is urgently needed. Heidelberg researcher Priya Chudasama (National Center for Tumor Diseases Heidelberg) and her team are being supported in this endeavor by the Deutsche Forschungsgemeinschaft (German Research Foundation / DFG) with two million euros under the Emmy Noether Program.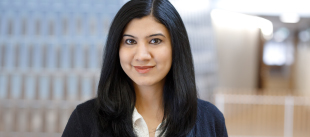 Projects & Partners
Recognizing fear and depression during pregnancy
A pregnancy is not always a time of untroubled joy – even if a planned child is on the way. The "Mind: Pregnancy" Project sponsored by the innovation funds of the German Federal Joint Committee (G-BA) examines about 15,000 pregnant women in Baden-Württemberg on a voluntary basis for mood disorders and arranges for offers of assistance. This project is being scientifically evaluated and can make a contribution toward closing an important gap in care.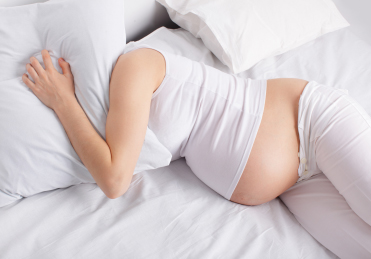 People & Prizes
Prize awarded by the Royal Family of Thailand
Prof. Dr. Ralf Bartenschlager, who conducts research as a virologist at the Heidelberg University Hospital and at the German Cancer Research Center (DKFZ), received another great honor: The Thai Prince Mahidol Award Foundation selected the virologist as the prizewinner of an award named after His Royal Majesty Prince Mahidol of Songkla for the year 2019. Bartenschlager received this prize, which is endowed with 100,000 US dollars, for his research work on the hepatitis C virus in the field of "medicine".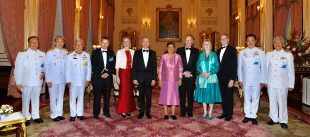 People & Prizes
Gold medal for Heidelberg cardiologist
At the world's largest conference for heart specialists, the congress organized by the European Society for Cardiology (ESC) together with the World Heart Federation (WHF), Prof. Dr. Hugo A Katus, Medical Director of the Department for Cardiology, Angiology and Pulmonology, was awarded the ESC Gold Medal. It is considered to be the highest award of this association and was awarded to Hugo Katus for the blood test for troponin T that he developed, with which damage to heart muscles can be detected with the highest degree of reliability.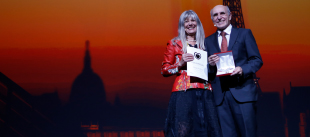 People & Prizes
Comprehensive insight into the genome
Prof. Dr. Christian Schaaf has succeeded Prof. Dr. Claus R. Bartram as Medical Director of the Institute for Human Genetics. His special interests are the genetics of neurological and psychiatric diseases and hereditary tumor diseases. The diagnostic spectrum and consulting services of the largest Institute for Human Genetics in Germany is to be expanded under his leadership. In particular, patients with unclear diseases, for whom the clarification of individual disease-related gene has not led to any results, will benefit from this expansion.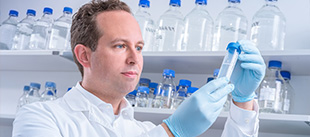 High-Performance Medicine
Welcome to the world
In March 2019, the first baby was born in Heidelberg after receiving pre-implantation diagnostics (PID). With PID, the genetic makeup of an artificially generated embryo is examined before being implanted into the uterus. This is only allowed if there is a risk of serious genetic disease or damage to the embryo. Moreover, the prerequisites are a consultation at the Center for Preimplantation Genetic Diagnostics as well as the consent of an ethics committee.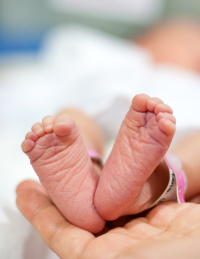 High-Performance Medicine
100,000 euros for chronically ill children
With this extraordinary donation, the Athenaeum Dietrich Götze Stiftung für Kultur und Wissenschaft (Athenaeum Foundation for Culture and Science) support the work of the Stiftung COURAGE (Foundation) for chronically ill children at the Center for Pediatric and Adolescent Medicine of the UKHD. Prof. Dr. Dietrich Götze, the physician and long-term chairman of the management team of the academic Springer Publishing House, is well-known in the Rhine-Neckar Region for his extraordinary support of science, culture, and social affairs.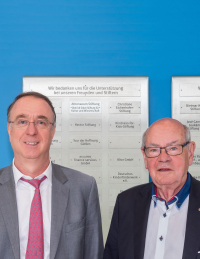 Innovation through research
Artificial intelligence beats dermatologists
Researchers at the Deutsche Krebsforschungszentrum (German Cancer Research Center / DKFZ), the University Department of Dermatology, and the National Center for Tumor Diseases (NCT) of Heidelberg have programmed an algorithm that can evaluate suspicious skin changes digitally. In one study, 157 dermatologists from 12 university hospitals competed with artificial intelligence: Both the physicians and the algorithm evaluated 100 photographs according to whether they showed a birthmark or malignant melanoma. In the end, artificial intelligence was more precise than the clinical diagnostic tests. Nevertheless, a doctor-patient consultation is of crucial importance for validating the results.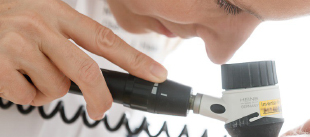 Innovation through research
Successful collaborative research centers at the Heidelberg Faculty of Medicine
The (German Research Foundation (DFG) supports two already existing collaborative research centers (CRC) and a new CRC with a total of about 34 million euros for the next grant period of four years. Topics are chronic pain (CRC 1158), the role played by the skin as a defense against germs (CRC-Transregio 156) and resistance to therapies related to malignant brain tumors (CRC 1389). A total of nine CRCs and CRC-Transregios are based at the Heidelberg Faculty of Medicine, and Heidelberg researchers are involved in another six CRCs.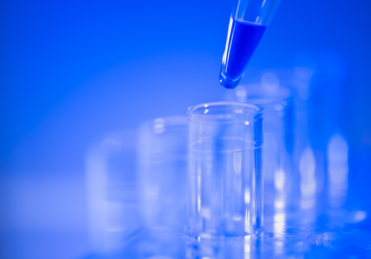 Aspects of Care
Instagram – one week in the intensive care unit
"Come along", it said on our Instagram-account @ukhd_heartbeat. Carina Schweitzer, a specialized nurse for anesthesia and intensive-care medicine and deputy head of the Gastro ICU, "took over" this channel and as part of her "takeover", she reported on her multifaceted everyday working life. By the way, our channel has more than 5000 followers!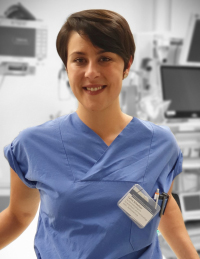 Aspects of Care
"Market of Care" at the Night of Research
Until late in the evening, visitors to the Heidelberg Night of Research were able to obtain information on nursing care and research at UKHD. The "Market of Care" at which nursing staff provided information on training and vocational opportunities and entertainment by encouraging active participation, played a special role here. Once again it became very clear that severely ill patients can only be successfully treated with highly qualified employees in interdisciplinary teams!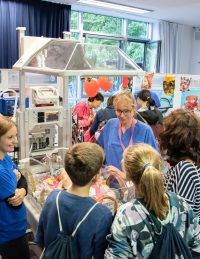 Innovation through research
Autism and gastrointestinal disorders
For the first time, researchers from Heidelberg, Würzburg, and Ulm have demonstrated that autism and digestive problems can be directly related. They were able to prove this with the Foxp1 gene, which is active not only in the brain, but also in the digestive tract. Inherited defects at this spot in the genetic makeup could, therefore, be responsible for both changes. The research results show that gastrointestinal problems are not only evoked by the medication that the sufferers have to take – as previously assumed – or by deviating eating behavior.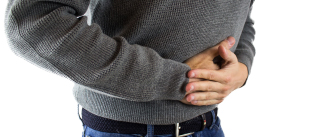 Innovation through research
Enzyme with a double function
An enzyme that has only been known in connection with fat metabolism to date, could be a new therapeutic approach for cardiac insufficiency. In both functions – metabolism and protection of the heart – the ABHD5 enzyme becomes active in reaction to a signal: If the body needs more energy, stress hormones are poured into the blood and set a chain of signals into motion. ABHD5 then starts breaking down fat and – the researchers showed this at the University Hospital and at the Deutsches Zentrum für Herz-Kreislaufforschung (German Center for Cardiovascular Research / DZHK) in their mouse model – the protein that protects the heart HDAC4-NT emerges. This inhibits the course of the metabolism of sugar, which weakens the heart.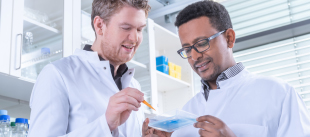 Innovation through research
Safe handling of active ingredient patches
A team of researchers from the Clinical Pharmacy Cooperation Unit has examined the package inserts of all active ingredient patches available on the German market – in 2016, there were 81 different package inserts. Important application information was missing in every package insert. This could jeopardize the error-free application of the medication, even if the formal requirements of the European Medicines Agency have been met for all package inserts.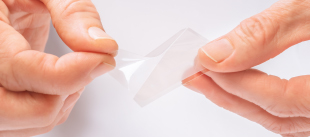 People & Prizes
A privileged profession
Since 1995, Prof. Dr. Claus R. Bartram has run the Institute for Human Genetics as its Medical Director. In addition, he was also Dean of the Heidelberg Faculty of Medicine for ten years, namely until 2014. Now the 66-year-old has retired. He never considered his active participation contribution in various bodies as a burden: "If you are able to practice such a privileged profession, you have to give something back". The team of the Institute for Human Genetics provides about 1,500 human genetics counselling sessions and more than 500 consultation services annually. In addition, more than 2,000 chromosome and another 2,000 genome analyses are conducted per year.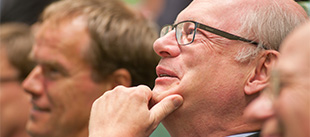 People & Prizes
Farewell to the "Spirit of Schlierbach"
Prof. Dr. Volker Ewerbeck was sent off into retirement with a party after working as Medical Director of the University Department of Orthopedics and Trauma Surgery for more than 22 years. This department is the largest orthopedic university clinic in Germany with about 50,000 outpatient and 7,000 in-hospital patients per year. "The whole spectrum benefits from many specialists. Having such diversity in our portfolio is outstanding" says Ewerbeck in thanks on the occasion of his retirement.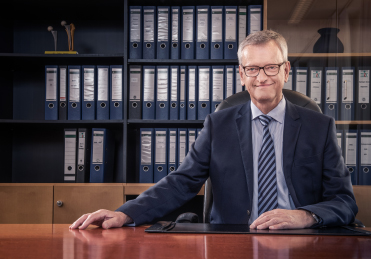 High-Performance Medicine
Virtual training in the radiation of complex tumors
To optimally prepare future medico-technical radiology assistants (MTRAs), the Klaus Tschira Stiftung (Klaus Tschira Foundation / KTS) has enabled the purchase of a radiation therapy simulator costing approximately 235,000 euros. Trainees can undertake all of the calculations and adaptations that are also possible with a genuine device and thus train for their work on patients.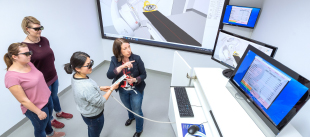 High-Performance Medicine
Quick help when caring for the severely injured
Volvo Car Germany and UKHD launched a pilot project for emergency care based on the experienced gained in motor racing. A special vehicle – the Medical Intervention Car – brings additional helpers, medical products and units of blood to the site of the accident and supports the care of persons who are in a critical state and unable to be moved. This project has initially been set up for two years and is being scientifically evaluated.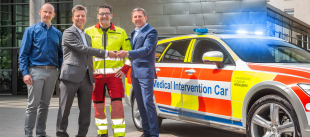 High-Performance Medicine
Removal of the most difficult tumors
More than 250 patients per year undergo stomach and esophageal tube operations in the Department of Surgery at Heidelberg University Hospital. For the outstanding quality of their treatment and their expertise in this field, the UKHD has been recognized with the highest certification stages as a "Center of Excellence for Stomach and Esophageal Surgery" by the Deutsche Gesellschaft für Allgemein- und Viszeralchirurgie (German Society for General and Visceral Surgery /DGAV).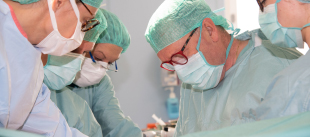 Projects & Partners
Quadruple support by the Baden-Württemberg Stiftung (Foundation)
Four researchers or working groups at the Heidelberg Faculty of Medicine have obtained highly endowed grants from the Baden-Württemberg Foundation. The projects, primarily involving the cooperation of multiple Heidelberg research units, deal with the topics of chronic pain, stem cell aging, risk markers, and the formation of resistance in pediatric leukemia, well as mechanisms of gene regulation in brain tumors. The endowment amounts to approximately 1.6 million euros, about 1.2 million euros of which will go to researchers and working groups at the Heidelberg Faculty of Medicine.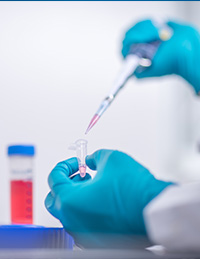 Projects & Partners
Tracking blood cancer stem cells
Under the Emmy Noether Program, the German Research Foundation (DFG) will support the work of Dr. Simon Raffel, a physician and scientist, at the Department for Hematology, Oncology and Rheumatology at Heidelberg University Hospital with 1.85 million euros for the coming six years. Raffel is using these funds to build up a research group to investigate the metabolism of acute myeloid leukemia (AML) in more detail and wants to improve the treatment of the patients afflicted with this disease.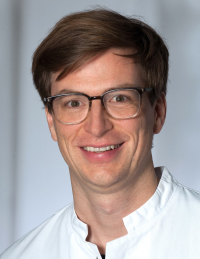 Aspects of Care
Our nursing road show continues!
After our digital "infocube" has already traveled to various trade shows and even to Serbia and Hercegovina, it is now making a stop at the Heidelberg Central Railroad Station, in order to give interested visitors a virtual insight into our work and provide information on training offerings, earning opportunities, and talent promotion at the UKHD. Nursing Director Edgar Reisch (2nd from the right) insisted on paying a visit to the team at the booth. Further information may be found under www.du-wirst-wachsen.de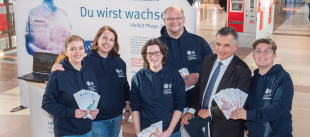 Aspects of Care
Overcoming language barriers
What if midwives and expectant mothers speak different languages, the woman cannot express her needs or doesn't understand what the midwife wants from her? Starting from this question, the midwife-in-training Talea Böhmerle (center) has developed cards, together with ten co-students, each depicting a subject and a statement in 13 common languages, which make understanding easier during the birth. "In this way we give women the security that they need in order to give birth to a child in peace", explains Talea Böhmerle.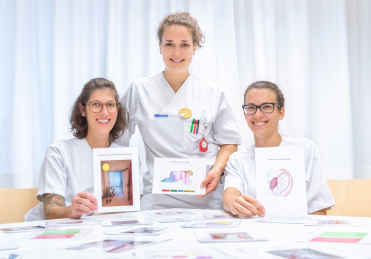 Projects & Partners
Preventing sudden cardiac death
The Else Kröner-Fresenius-Stiftung (Foundation) awarded a scholarship of 260,000 euros to Prof. Dr. Benjamin Meder, Deputy Medical Director of the Department for Cardiology, Angiology and Pulmonology. Meder is studying the influence of genes on the emergence of cardiomyopathy, a disease with which the frequently young patients are at risk for sudden cardiac death. The researchers working with Meder suspect that the origin of this disease is due to changes in gene activity caused by external environmental factors, such as medication, lifestyle, and stress.
Projects & Partners
New networks for neuro-oncology
The Hertie-Stiftung (Foundation) is leading the way in the field of clinical neurosciences and has initiated an innovative research and career network: New partnerships are being created with the "Hertie Network of Excellence in Clinical Neuroscience" and the accompanying career program. Fifteen sites have applied for the support from the Hertie Foundation, six are on board and are being supported with a total of five million euros – including Mannheim/Heidelberg!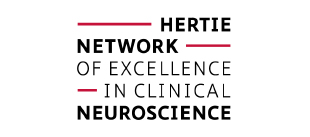 Projects & Partners
Childhood House opened
In the presence of Queen Silvia of Sweden, an interdisciplinary center for children and juveniles who have experienced sexual violence, was inaugurated on the premises of UKHD. This new facility represents the cooperation between the Heidelberg University Hospital and the World Childhood Foundation, and was made possible financially, by the significant endowment, among others, from the der Klaus Tschira Foundation (KTS).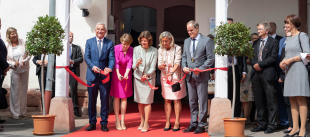 People & Prizes
Ars legendi Faculty Prize in Medicine for 2019
Adjunct Professor Dr. André Mihaljevic, Clinical Senior Surgeon was awarded the Ars legendi Faculty Prize for excellent teaching in university medicine for 2019. The Donors' Association and the Medical Faculty Day award this prize with an endowment of 30,000 euros to an academic who has an extraordinary feeling for current topics in the study of medicine, interprofessionalism, and digitization. Mihaljevic developed, e.g. together with colleagues, the Heidelberg Interprofessional Training Ward (HIPSTA), where students in their practical year of training are familiarized with team work on the ward.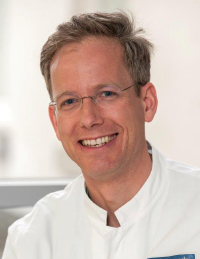 People & Prizes
The role of the psyche needs to be considered more often
Prof. Dr. Hans-Christoph Friederich is the new Medical Director of Department of General Internal and Psychosomatic Medicine. The extensive spectrum of treatments available at this department ranges from mental, frequently stress-related diseases, which are expressed as physical symptoms, such as dyspepsia, down to physical illnesses, such as cancer and heart diseases that evoke fears or depression. It means a great deal to Friederich to be able to make psychosomatic therapies available as needed through integrated and phased care offerings, thus allowing help to be given as soon as possible.